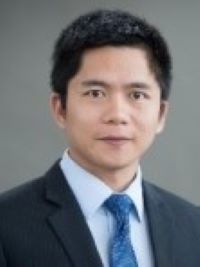 Email: tengwu@buffalo.edu
Structural Engineering; Wind Engineering;
Bridge Engineering; Wind-Train-Bridge System;
Nonlinear and Transient Aerodynamics;
Hurricane Hazard Modeling;Non-Synoptic Winds;
Fluid-Structure Interaction; Reduced-Order Modeling;
Computational Fluid Dynamics; Turbulence Modeling;
Dr.Teng Wu currently serves as the Associate Editor of ASCE Journal of Bridge Engineering, IABSE
Structural Engineering International, Frontiers in Built Environment-Wind Engineering and Science, and International Journal of Aerospace Engineering. He is a member of Super-Long-Span Bridge
Aerodynamics Working Group of IABSE, a board member of International Joint Research Laboratory in
Wind Engineering, and a member of Academic Committee for International Joint Research Laboratory of
Rail Transportation Safety. He also serves on a number of ASCE committees including Structural Wind
Engineering Committee, Performance Based Wind Engineering Committee, Standards Committee ASCE
49-Wind Tunnel Testing for Buildings and Other Structures, EMI Dynamics Committee, Computational
Mechanics Committee, Fluid Dynamics Committee, Probabilistic Methods Committee, and Structural
Health Monitoring and Control Committee. Since joining UB, Wu has obtained support for his research
from federal and state agencies in the United States and through industrial and international
collaborations. Wu has authored more than 50 articles published in highly respected journals of
structural/wind engineering, and presented over 60 conference papers.
IABSE Prize, IABSE 2018
(International Association for Bridge and Structural Engineering)
Junior Award, IAWE 2017
(International Association for Wind Engineering)
Robert Scanlan Award, AAWE 2017
(American Association for Wind Engineering)
Alfred Noble Prize, ASCE/ASME/IEEE 2016
(American Society of Civil Engineers/American Society of Mechanical Engineers/Institute of Electrical and Electronics Engineers)
ASCE ExCEEd Fellow, ASCE 2015
Best Paper Award, AAWE 2014